Crans-Montana is approximately two hours from Geneva and three hours from Zurich. Situated on a high plateau, 1,500 metres above sea level, with snow-capped mountains rising to 3,000 metres, Crans-Montana overlooks the Rhone Valley with its picturesque vineyards. It is accessible either by car or train.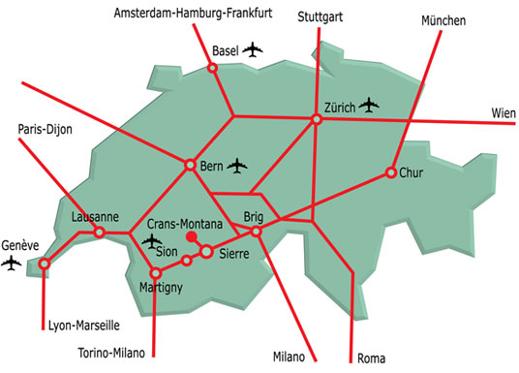 The closest train station is Sierre/Siders. The funicular operates between Sierre and Crans-Montana (Montana Gare), which takes approximately 10 to 15 minutes. From there, it is a short taxi ride to your hotel (10 minutes). The last funicular ride to Crans-Montana is at 21:10.
Please check the timetable before departure in case of changes. For further details please contact the School.
Crans-Montana consists of twin villages, Crans and Montana. A short walk separates the two villages. The Académie is located in the centre of Crans.
Address:
Hay Speech Training
(in the L'Académie building)
Rue du Pas de L'Ours 6
Crans-Montana 2 CH-3963
SWITZERLAND
© Copyright Hay Speech Training